Plinko MyStake
08-02-2023
Get ready for the ultimate thrill-ride with Plinko, one of the most exciting Minigame available on MyStake! This game is not just simple and entertaining, it's an adrenaline-pumping experience that will leave you on the edge of your seat. With its roots in the Japanese gambling game "Pachinko", Plinko takes the classic game to a whole new level.
Take a chance and experience the rush of risking it all with every drop of the chip. With beautiful graphics and a user-friendly interface, you'll be transported to a world of pure excitement and the chance to win big.
How to Play Plinko on Mystake
Get ready to drop, bounce, and win big with Plinko on MyStake! This exciting game is easy to play and offers endless possibilities for big payouts. With its unique gameplay and various customization options, you'll have full control over your Plinko experience.
Choose the number of rows (8 to 16), the level of game risk (low, medium, or high), and the number of balls (1 to 20) to personalize your game. The number of rows and the game risk level directly impact the multipliers, so pick wisely! The 16 row table on high game risk has a massive 1000x multiplier, while the 8 row table has a still impressive 29x multiplier and the low game risk multiplier falls to 5.6x.
Each Plinko bet is divided by the number of balls you've chosen, so each ball has its own value. That value is then multiplied by the multiplier in the slot it falls into. For example, if you bet $20 with 20 balls and one ball lands in a 1000x multiplier slot, your winnings would be a whopping $1000 (20 / 20 * 1000).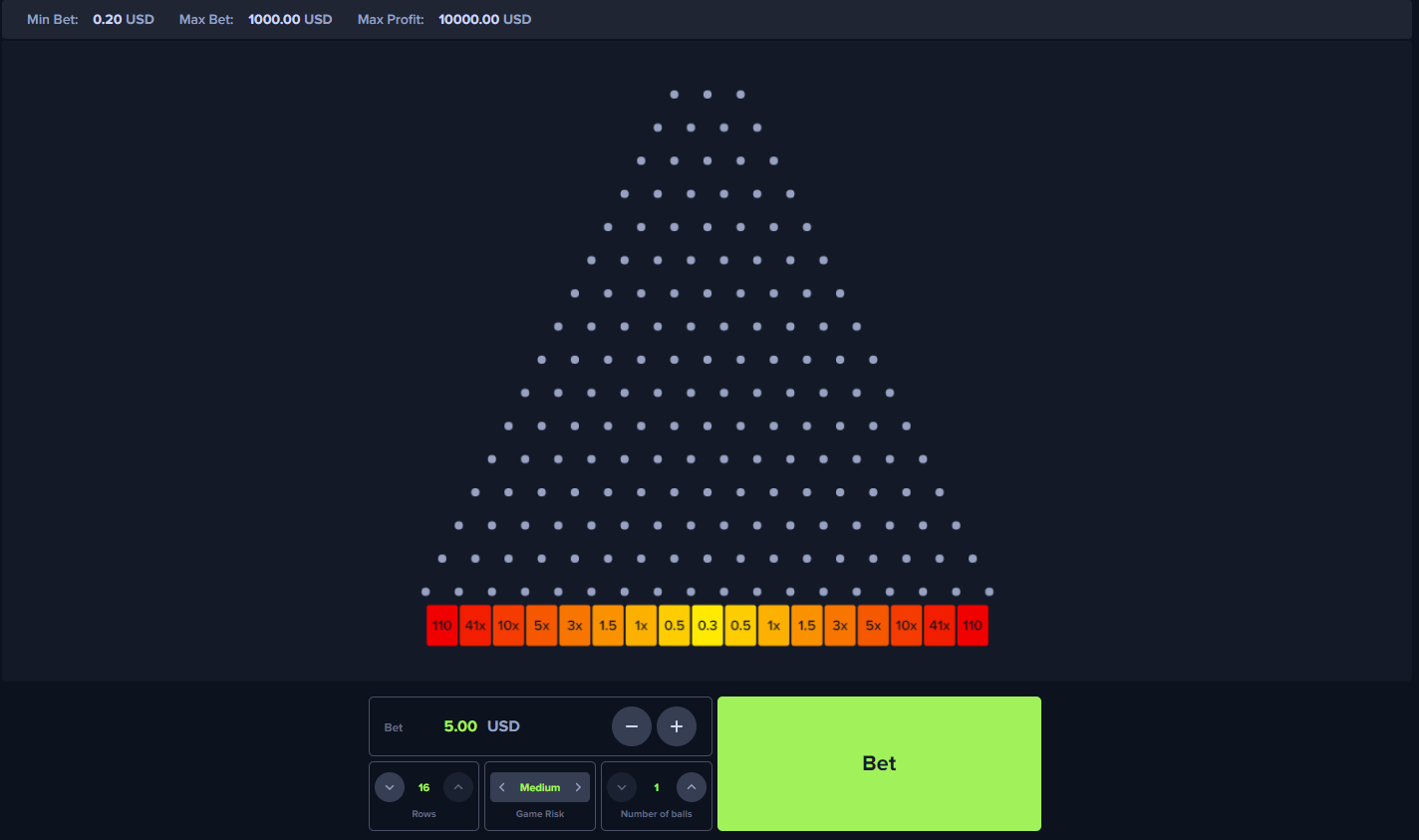 Play Plinko with Bonus
Playing Plinko on Mystake with bonuses adds an extra layer of excitement to the gaming experience. Mystake offers several bonuses for players, including a Social Media Promotions.
· Social Media Promotions are available for players who join Mystake's community on Discord, Telegram, Twitter, Youtube, and Instagram. These promotions provide players with countless rewards, including bonus money and free spins, adding even more excitement to the gaming experience.
In conclusion, playing Plinko with bonuses is a great way to enhance the gaming experience, with numerous opportunities to earn extra rewards and bonuses. Join Mystake today and enjoy the thrill of Plinko with even more excitement!
Conclusion
In conclusion, Plinko is a fantastic mini-game that offers the perfect combination of excitement and potential for big winnings. With its simple and intuitive gameplay, beautiful user interface, and customizable options, you'll be able to fully immerse yourself in the Plinko experience.
So don't wait any longer, sign up on MyStake today and start playing Plinko! And with countless bonuses and free bets, your chances of winning big just got even better. So join the Plinko craze and experience the thrill of dropping balls and winning big on MyStake!