Armada MyStake
08-02-2023
The exciting new game from MyStake – Armada, that's taking the online casino world by storm. With a staggering RTP ratio of 99%, Armada is one of the most lucrative mini games around, and it's only available at the MyStake Online Casino.
What makes Armada so unique is that it's a custom minigame, developed by the experts at UpGaming and is all about guessing and strategy. Whether you're a seasoned pro or a newcomer to the world of online gaming, you'll love the challenge that Armada brings. And with its impressive graphics and smooth gameplay, you'll be drawn in from the very first bet.
This exciting new game is inspired by the legendary Spanish Armada fleet, and brings the classic player vs player battleship game (Sea Battle) to a whole new level.
As an online wagering game, Armada challenges players to predict the configuration of a hidden naval fleet based on the information provided. With a 10x10 grid, players must strategize and make their best guess to emerge victorious. And with an impressive RTP ratio of 99%, you'll have the chance to earn big returns on your investment.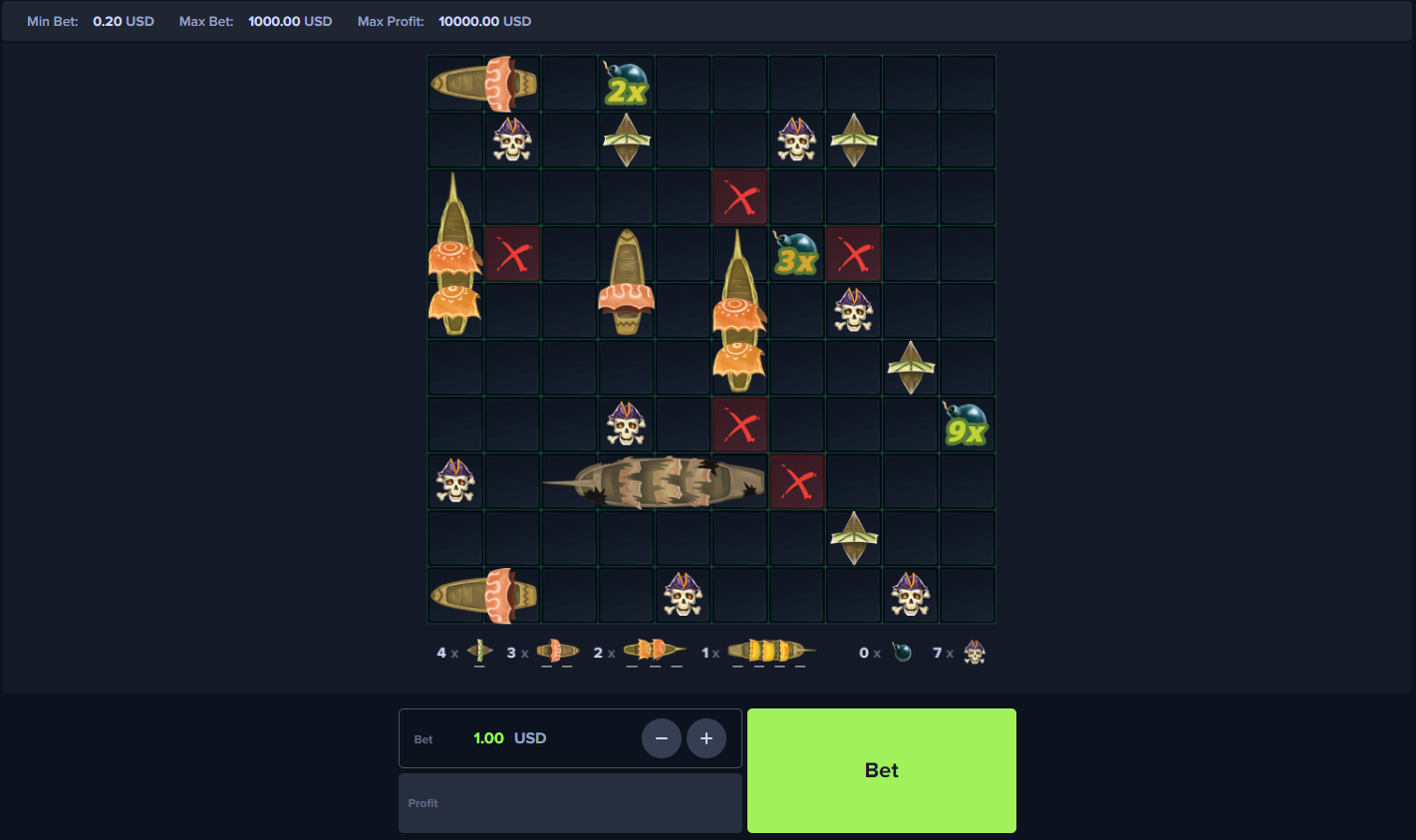 But be warned, Armada is not for the faint of heart. Players must make a deposit of real money in order to play at the MyStake casino and each round requires a wager in real money. The amount that can be staked ranges from 0.2 dollars to one thousand dollars, making it accessible for players of all financial means.
One of the key elements of Armada is understanding the rules of the game. The game map, consists of 100 boxes, with 20 of them filled with various components of ships. Players are given 5 explosives, or "lives," to use in their attempts to hit the target. Successfully hitting the target will not decrease the number of explosives, but missing will cause the number to decrease.
Players will not know the size of the ship until it is hit, unless it is a single-box spacecraft. If the smallest ship is hit, it will explode, and players will be given the option to cash out any accumulated wins. However, if a larger ship is hit, players must continue striking it in either the horizontal or vertical direction to sink it. The ship formation cannot be diagonal. Once the whole ship is sunk, the cashout feature will become available. Keep in mind that there is no cashout option when taking out a quarter, half, or three quarters of the ship.
So, if you're ready to put your sea battle skills to the test and potentially earn big profits, head on over to MyStake online casino and play Armada.
Multiplier can reach up to 70x in a single round, but please keep in mind, that maximum winnings in a single round can't exceed $10 000.
Armada Icons and Their Meanings:
·

Extra Bombs -

In every round of Armada there are 3 types of Extra Bombs, 2x, 3x and 9x. If you hit one of those, you will receive extra bombs, which you can use. The quantity itself is written on the icon.
·

Boat - Boat only occupies one box and gives you the multiplier of 1.3x.
·

Medium Ship - The Medium Ship occupies 2 boxes on the board, and when you successfully sink it, you'll receive a multiplier of 1.7x on your winnings.
·

Big Ship - Big ship occupies 3 boxes and gives you multiplier of 2.4x when sunk.
·

Warship – The Warship is the biggest ship in the game and occupies 4 boxes on the board. When you successfully sink it, you'll receive a multiplier of 5x on your winnings.
·

Skull Icon – If your explosive hits skull icon, it means "instant death", in this case round ends and you lose all your multiplier.
Play Armada Game with Bonus on MyStake
There are numerous bonus offers waiting for you on MyStake! We have chosen the ones which are more interesting for us. Here's the list of the best bonus offers from MyStake!
Mini Games Welcome Bonus
Sign up on MyStake, make your first deposit above 20 EUR / USD / BRL and get 100% on top to enjoy playing your favorite mini games including Dino with doubled up funds!
10% Deposit Cashback
Receive cashback for your deposits on MyStake. For every $100 deposit you will get $10 Bonus Money. This Cashback money allows you to play on Armada Mini game. Cashback bonus should be received by contacting Live Chat support or E-mail.
10% Crypto CashBack
If you make your deposits on MyStake with Crypto currencies, at the end of the month all of your negative balance will be calculated and 10% of it will be added back to your account as a cashback. You can withdraw the whole cashback amount, or play your favorite Dino game without rollover requirements!
Partner Websites
There are also other options to get bonus on the Armada Game. Partner and affiliate websites, such as Lucky-Minigames, actively releases a special promotion for Armada and Other MyStake Mini Games. Check out their page regularly to be the first to hear about available special bonuses!
Conclusion
In summary, Armada is an excellent minigame, designed by UpGaming for MyStake, that offers a perfect blend of skill and chance. It's a game that is well-rated, offers great returns and has been enjoying positive feedback. It's definitely worth a try, if you're looking for a unique and enjoyable online gambling experience.